With thousands of schools situated in high pollution areas, decarbonising the school run is a priority for our children's health. Chris Bennett offers some advice for primary schools and explains the successful School Streets approach
With COP26 in the rear-view mirror and the urgent warnings of the climate crisis made ever clearer during discussions, the need for action is greater than ever.
Transport is the largest emitter of greenhouse gases in the UK, and motor vehicle use is the greatest source of emissions. In London, 60 per cent of particulate matter has been found to come from road transport: 45 per cent from tyre and brake wear and 15 per cent from exhaust emissions (Sustrans, 2018).
Furthermore, research published to coincide with Clean Air Day in June last year shows that 27 per cent of UK schools – which equates to 7,852 nursery, primary, secondary and sixth form settings – are in high pollution areas (Headteacher Update, 2021).
If the government wants to meet its legal obligations to reduce greenhouse gas emissions and ensure global temperatures do not rise above 1.5°C, then we need to rapidly decarbonise the way we travel.
A natural choice
Active travel should be the natural first choice for shorter journeys. The average primary school journey is just 1.6 miles, and yet as many as one in four cars on the road during the morning rush hour are on the school run.
These are the shorter trips for which we need to enable people to make the switch from their car to active modes of travel such as walking, wheeling, cycling or scooting.
For some of us, using the car for the school run is the only option. However, while recognising that people have different needs, there is an opportunity for us to reduce the number of unnecessary short journeys that we take by car and travel by foot or bike instead.
Our children are worried
Last year Sustrans commissioned a YouGov poll surveying 1,305 pupils aged from six to 15 across the UK about their thoughts on the environment, climate crisis, and the air quality around their schools (Sustrans, 2021).
The results indicate that they are conscious of and concerned about the future of the environment and the planet, with 71 per cent admitted they are worried.
Just over three fifths (62 per cent) of children felt that adults were not doing enough about climate change and just over half of those who took part felt that children's concerns are not taken seriously by adults.
We only have to look at the Friday's for Future campaign, which took off in 2019 and saw pupils of all ages taking to the streets to demand urgent action be taken to address the climate crisis. It is clear that children want to see the adults around them taking a lead to reduce their own emissions.
Of the children surveyed, 38 per cent thought that walking and cycling more for local journeys was the most important thing that adults could do to reduce emissions in their towns and cities.
Sustrans in education
Sustrans works closely with schools across the UK to help increase the number of school run journeys made using active modes of transport. We provide teaching resources for teachers to use inside and outside of the classroom, helping to build pupils' confidence and encouraging and enabling more to walk and cycle to school in a safe manner.
Schools officers are embedded into schools, allowing collaboration and the implementation of programmes that work for the entire school community – teachers, pupils and parents – creating a culture of active travel.
By the end of the 2020/21 academic year, the number of children travelling actively to school at participating schools increased from 31 to 43 per cent, while the number of pupils being driven to school fell from 61 to 50 per cent. Furthermore, interventions saw the number of children completing physical activity for at least 60 minutes each day increase from 26 to 41 per cent.
Ideas to encourage families towards active travel
Families may know that there are multiple benefits to walking and cycling to school, but what can schools do to encourage this behaviour shift and make it more of an appealing decision?
Schools can identify an off-road, park-and-stride location that is five to 10-minutes' walk away from the school and highlight this to parents so that they can park there and walk for the rest of the journey. Schools could also incentivise travelling actively by using the school rewards points system, free fruit/healthy snacks, or award certificates to celebrate achievements.
Schools could also organise their own inter-class challenges, for walking or cycling to school, providing prizes, certificates or class points.
Elsewhere, you might organise an active travel day, or week, at your school. Select a date that will be car-free and encourage everyone to walk, cycle, wheel, or scoot to school on that day if they can. You could ask your pupils to design the posters about the event. Parents, staff and pupils will experience the benefits of travelling actively and it could get them into the habit for future journeys.
Make walking and cycling to school the primary mode of transport by increasing knowledge about safe routes. Schools can distribute letters or leaflets to highlight recommended routes and crossings for parents. In doing this, you could also highlight the importance and benefits of active travel.
Organising a walking or cycling bus to school has proved effective in encouraging families to travel to school by walking or wheeling as they feel safer travelling in a group. It can make the initial journeys a lot less daunting.
Having enough space to store scooters and bikes is key as families will not want to leave them somewhere they feel is unsafe. Improving your storage areas to ensure they are safe and secure, covered and easily accessible will be a necessary step to encourage a change in behaviour.
The Sustrans Big Walk and Wheel 2022
Sustrans Big Walk and Wheel, formerly Sustrans Big Pedal, is Sustrans' annual inter-school active travel challenge, aiming to inspire people to change behaviours and take active journeys to school.
The event takes place from March 21 to April 1 this year and is the UK's biggest walking, wheeling, scooting and cycling to school challenge. It is an easy way for schools to encourage more families and children to choose active forms of travel and to instil lasting behaviour change. Resource packs are provided for each challenge to help the school community take part.
School Streets
Developing and implementing a traffic reduction model for roads surrounding schools is a core part of Sustrans' work. Termed "School Streets", these schemes seek to restrict traffic on roads outside school grounds for 30 to 60 minutes at either end of the school day. Residents and blue badge holders have access, but through-traffic is restricted.
School Streets can give children the freedom to cycle, scoot and walk in the knowledge that the air they are breathing is cleaner and the road is safer.
The School Streets approach is being trialled by a growing number of UK towns and cities, with Sustrans working closely with local authorities and schools directly.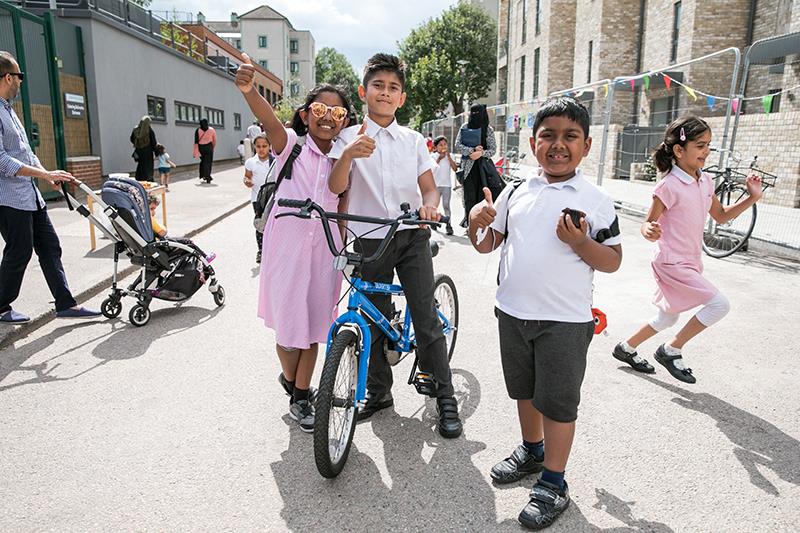 Safe: A School Streets scheme at St Paul's Way School in Tower Hamlets, London (image: Kois Miah/Sustrans)

Sometimes called "Healthy School Streets", "School Exclusion Zones" or "Car-Free School Streets", they lead to more children walking and cycling to school. Not only does this benefit children's health by improving the air quality around schools through reduced levels of congestion and pollutant matter, but there are also physical and mental health benefits.
By taking an active form of travel to school, children avoid the associated risks that physical inactivity can cause, and a pupil's ability to concentrate and learn is boosted.
Many teachers report that children often arrive at school more engaged and ready for the day after walking, wheeling or cycling the journey. It is a good opportunity to let off some steam at the end of the school day, too.
Sustrans can help local authorities to implement School Streets through a team of engineers, urban designers and community engagement specialists across the UK and working closely with schools. We can support with:
Developing School Street policies.
Carrying out feasibility studies.
Sharing design guidance.
Engagement support.
Setting up ways to monitor the impact.
Trialling and implementing School Streets.
Connections with communities
Experiences of wonder and learning, central to childhood development, can come from walking, wheeling and cycling the journey to school. For many, it can be an opportunity to foster a closer relationship to the natural environment around us.
We can discover more about trees, birds, and plants we may see on our route that we may never have noticed before in cars. We can also form social connections and bonds with people in our communities along the way.
By changing how we travel to school and incorporating active travel in our daily routines, we can make our towns and cities fundamentally better places to live, for everyone, boosting our connection to the natural and built environment around us.
Chris Bennett is head of behaviour change and engagement with Sustrans, a charity working to make it easier for people to walk and cycle. Visit www.sustrans.org.uk
Further information & resources